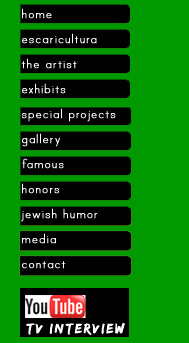 Silvio Fisberg, Pivo, was born in São Paulo on May 18, 1959.

His appreciation for caricatures, cartoons and comics came along with the first sheet of paper and pencil presented to him. After filling all his notebooks from elementary, medium, and high school and those of the first year in the History College of the University of São Paulo (USP) with his drawings, the experience of living in Israel, in a Kibbutz (a collective farm) between the years of 1980 and 1984 changed his life and mainly, his relationship with plastic arts.
It was in the Kibbutz, working in the maintenance of agricultural equipment, and learning welding techniques, mechanical lathe, and handling tools in general (specializing in the renown  Rupin Institute in Israel) that he developed the taste for sculptures.

But, it was only in 1991 that the idea of turning his drawings into three-dimensional figurines became reality, when he won 1st place in the 1st Contest of Plastic Arts "Shalom, a Message of Peace" of the Congregação Israelita Paulista (Reform Synagogue, in São Paulo).
As of that moment, molding with plastic dough or ceramics became the gist of his work.